Skin Care Products - Atlanta, GA
---
Alastin Gentle Cleanser
Price $45
Gentle, self-foaming cleanser that removes impurities without drying or irritating the skin. A unique blend of moisturizers and vitamins designed to clean, soothe and soften the skin without upsetting skin's delicate moisture balance.This Sulfate free cleanser thoroughly removes enviromental pollutants and make-up, and is excellent for post-procedure sensitive skin.
Alastin Regenerating Skin Nectar with TriHex Technology
Price $195
This proprietary formulation is designed to support the skin, before, during and after cosmetic procedures. This product works with the skin's natural regeneration process and assists in improving the skin's appearance. It can be applied immediately post-procedure for faster recovery and healthier looking skin. It enhances healthy skin by helping to clear damage and debris in the extracellular matrix. In addition, with it's high antioxident activity it supports the skin's natural ability to produce new, healthy elastin and collagen.
Alastin Soothe + Protect Recovery Balm
Price $40
A highly emollient formulation designed to moisturize, soothe, and protect the skin following rejuvenating cosmetic procedures.This balm Supports the renewal of post-procedure skin by restoring the barrior function of the skin.
Alastin Ultra Nourishing Moisturizer with TriHex Technology
Price $75
Hydrating moisturizer that contains exclusive moisture building ingredients, powerful antioxidants and skin soothing phyto-nutrients that help promote and maintain the barrier function of the skin.In addition to it's unique combination of peptides, this moisturizer has key botanicals that calm the skin, all while being fragrance and oil free.
Avene Thermal Spring Water (50mL / 150mL)
Price $9 / $26
Avène Thermal Spring Water's unique composition is clinically shown by over 150 studies to calm, soothe and soften the skin. Ideal for red, sensitive or irritated skin and perfect for post-workout, travel, outdoor activities or to freshen up makeup.
CLEANZiderm M.D. System
Price $147
Complete acne treatment specifically formulated for normal to oily skin to help treat acne where it starts.
Daily Care Foaming Cleanser - A light, foaming acne cleanser with 2% salicylic acid. This effective cleanser unclogs pores and washes away dead skin cells, leaving skin feeling clean and refreshed. It also includes calming menthol to help cool irritated skin.
Pore Therapy - Unclogs pores and clears away dead skin cells with 2% salicylic acid. While leaving a refreshed feel to the skin, Pore Therapy prepares the skin for the next step in the acne treatment regimen.
Therapeutic Lotion - Lightweight acne treatment lotion with 5% BPO uniquely formulated to help clear acne.
Glytone Body Kit
Price $68
Kit containing Exfoliating Body Wash and Retexturizing Body Lotion. It utilizes the benefits of Free Glycolic Acid to help reduce specific skin conditions, such as Keratosis Pilaris, red bumps, and rough, bumpy skin.>
HYDRO-Q (4%)
Price$80
A 4% hydroquinone – a proven prescription agent for the treatment of hyperpigmentation.
Image Ormedic Balancing Lip Enhancement Complex
Price $17
Specifically designed to enhance the appearance and volume of lip contours. This ultra-hydrating, powerful polypeptide lip enhancement complex will add up to 40% of moisture volume with repeat usage. Diminishes fine lines as well as reduces inflammation after lip injections. Use of product will complement and enhance the effects of professional dermal fillers. Paraben free.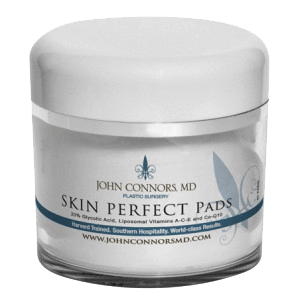 JCPS Private Label Skin Perfect Pads
Price $40
Our Private Label 20% Glycolic Acid pads are convenient and easy to use. They gently exfoliate, moisturize, and assist in the removal of oil and residue on the skin while prepping the skin for all topical treatment regimens.
JCPS Private Label Sunscreen SPF 30
Price$32
Our Private Label SPF 30 is formulated with purest pharmaceutical grade 17% Micronized Zinc Oxide to provide the highest level of broad spectrum UVA/ UVB protection.
Latisse(5ml)
Price $175
An FDA-approved treatment to grow longer, thicker eyelashes.
Obagi Tretinoin Cream 0.025%
Price $84
Obagi Tretinoin Cream 0.05%
Price $91
Obagi Tretinoin Gel 0.05%
Price $92
Obagi Tretinoin Cream 0.1%
Price $102
Refissa
Price $150
A .05% tretinoin (a prescription strength form of Vitamin A) that works deep at the skin's cellular level to increase cell turnover and collagen production, smooth fine lines and wrinkles, and correct irregular pigmentation and skin texture.
Revision Black Mask
Price $39
An intensive mask with a moist after-feel deep cleans the skin, ridding it of impurities and excess sebum.
Revision Brightening Facial Wash
Price $29
This ultrarich cleanser with Alpha and Beta Hydroxy Acids and brightening botanicals, removes the day's impurities, leaving skin clean and hydrated.
Revision DEJ eye cream™
Price $89
DEJ eye cream™ provides intense moisturization for smoother skin texture. Advanced extracts, peptides and potent antioxidants work cohesively to create clinically proven results for both upper and lower eyelids.
Revision DEJ Face Cream™
Price $129
DEJ face cream™ approaches aging skin in a comprehensive new way. This product contains a proprietary ceramide blend, specialized herbal extracts and a unique peptide combination for proven results.
Revision Finishing Touch
Price $39
This serious facial exfoliation scrub removes dead, dehydrated surface cells from the skin for an immediate soft, smooth appearance.
Revision Firming Night Treatment Cream
Price $59
This peptide-rich, age-defying cream provides intense short- and long-term moisturization while you sleep.
Revision Hydrating Serum
Price$49
This ultra-light, oil-free serum is boosted with the benefits of smart hydration for a smooth, refreshed appearance.
Revision Intellishade Matte / Original
Price $56
Outsmart the signs of aging® with this award-winning tinted moisturizer that gives skin a touch of sheer, healthy color. Formulated with a blend of three peptides and broad-spectrum UVA and UVB protection, it's the smart way to care for your skin.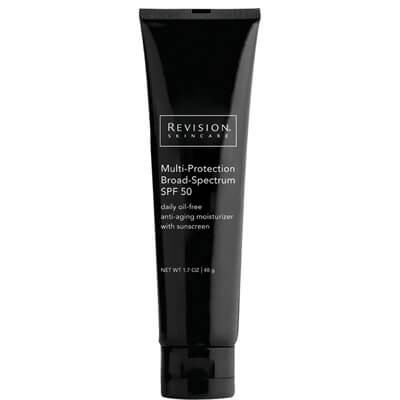 Revision Multi-Protection Broad-Spectrum SPF 50
Price $56
Keep skin protected every day with this lightweight, oil-free, anti-aging moisturizer. Formulated with three peptides and potent antioxidants to brighten your skin.
Revision Nectifirm (1.7 oz / 8 oz)
Price$73 / $240
This best-selling neck cream contains plant extracts, antioxidants and unique biotechnological blends that work cohesively to create a smoother, firmer, younger-looking neck.
Revision Vitamin C Lotion
Price$109
Vitamin C Lotion 30% is formulated with the most advanced form of Vitamin C for healthy, radiant skin. The 30% formula contains one of the strongest concentrations of Vitamin C available.
Skin Medica Facial Cleanser
Price$38
A great cleanser for all skin types. Removes environmental pollutants, excess oil and makeup, and hydrates and refreshes skin.
Skin Medica Post Procedure System
Price$99
This clinically tested post-procedure kit has been specifically formulated to optimize the results from deep chemical peels, CO2 and fractionated CO2 laser resurfacing treatments. This kit helps your skin throughout the healing process and complements the results of these procedures.
Skin Medica TNS Essential Serum®
Price$280
Our unparalleled patented treatment is the first and only rejuvenating serum to combine the benefits of the proprietary growth factor blend, TNS Recovery Complex®, with potent antioxidants, peptides and other innovative ingredients to restore a youthful look to skin.
Skin Medica TNS Ceramide Treatment Cream™
Price $69
Hydrates and helps restore your skin's moisture barrier and balance.
Skin Medica TNS Eye Repair®
Price $102
Reduces the appearance of fine lines, wrinkles and puffiness around the eyes.
Skin Medica Ultimate Daily Moisturizer™ SPF 20 Sunscreen
Price $92
Hydrates your skin while providing UVA and UVB protection to help prevent sun damage.
Skin Medica Ultra Sheer Moisturizer
Price $58
A lightweight, everyday moisturizer.
Skin Medica Vitamin C+E Complex
Price $102
Improves the appearance of skin tone and texture with vitamins C & E.