Regardless of how often you work out or how well you eat, a sculpted look can be difficult to not only achieve, but maintain. Many of our patients appreciate the extra "boost" that non-surgical body sculpting gives them – helping to improve their muscle tone and definition. Double Board-Certified Plastic Surgeon, Dr. John Connors, is proud to offer the revolutionary EMSCULPT®, a non-invasive treatment that simultaneously burns fat and builds muscle to sculpt and contour the body. Patients who are at a healthy weight that desire additional contour will benefit from EMSCULPT®. The treatment uses HIFEM (High-Intensity Focused Electromagnetic) Technology to promote supramaximal muscle contractions that build muscle at a cellular level. When exposed to the series of contractions, muscle tissue is forced to adapt and respond resulting in the enhancement of current muscle and the creation of new muscle. In some areas, EMSCULPT® has also been proven effective in fat reduction. It is designed for both men and women seeking an enhanced muscular appearance of the abdomen and/or buttocks.
To learn more about non-surgical body sculpting through EMSCULPT®, we invite you to call the office to schedule a consultation today!
Reviews
"Dr. Connors and his staff are some of the most wonderful people I have met since moving to Atlanta.  They truly care about you-how you feel, that you are happy with results, really they treat you like family.  If anyone is considering plastic surgery, Dr. Connors is a must, he will make you perfect!"
- K.E. /
Yelp /
Aug 28, 2015
"Wonderful staff, amazing results, and overall great experience! This was my first time receiving Botox and lip filler. My wedding is coming up this fall and I wanted to enhance my features, but still look natural. Given it was my first time, I was very nervous going in. However, I had absolutely no reason to be! The receptionist at the front desk started my appointment off on the right foot and immediately put my mind at ease. She was extremely friendly, welcoming and made the check-in process a breeze. Jenny, the nurse practitioner administering the Botox and filler, was truly wonderful. She asked me what look I was going for and delivered exactly that! She also explained to me what to expect during and after the procedures so that there would be no surprises. Carey, the nurse who helped assist, was so kind and shared her own experiences with these procedures which also put my mind at ease. Not only was the experience great, but the results are amazing! I told Jenny that my biggest fear was having duck lips and that I just wanted to have slightly fuller lips to make my lipstick and smile look better for my wedding day. Jenny gave me exactly what I was looking for! I love my new lips! They look like my lips, but better! So natural and tasteful. Jenny also gave me Botox injections in my forehead and was very careful about the amount she used on me. She gave me what she refers to as "babytox" which is a smaller amount of Botox. And it is working wonders! The wrinkles on my forehead are disappearing before my eyes! Overall, wonderful experience! Extremely natural and gave me exactly what I was looking for. 10/10 recommend!"
- C.P. /
Google /
Jun 25, 2020
"I was looking to get under eye fillers in the north Atlanta area. I found a practitioner near me at Dr John Connors Plastic Surgery Group of Atlanta, Avalon Location. I went in for a consult with Jenny Azar, NP-C, BSN. She has been performing plastics since 2011 and fillers since 2015. She made me feel comforted at the facility and confident that I could ask her anything. Since I had already done some research, she gave me some very insightful perspectives on making the most of any skincare and facial treatment I choose. Based on my facial structure and hollows in my face, we opted for two different types of Restalyne hyaluronic fillers, for the cheeks as well as the under eyes. The procedure took about one hour, from numbing to injections and clean up. The overall environment at John Connors Surgery Center was very clean, modern and comforting. Jenny did a great job from explaining why she chooses Restalyne, to the procedure and post procedure care and what I should expect for recovery and future needs. For my first time getting fillers, at age 27, it was a great experience and Jenny did a great job! I highly recommend scheduling your appointment here and feel free to contact them with any questions or concerns. The staff was very welcoming, educational and fun! And of course followed proper PPE procedures!"
- C.W. /
Yelp /
Jun 10, 2020
"Best plastic surgeon with the best staff in all of Atlanta. They make you feel comfortable in all phases."
- T.R. /
Google /
Jan 18, 2020
"I love everything about this place. From the staff, to the ambiance, to the top notch services that they offer, the office of Dr. Connors is amazing! I've been going to see them for over SEVEN years now.I give them my full recommendation."
- T.R. /
Yelp /
Jan 14, 2020
Previous
Next
EMSCULPT Ideal Candidates
During your consultation with Dr. Connors, he will assess your body fat, skin laxity, and overall contour to see if you are a candidate for EMSCULPT. This noninvasive treatment is great for patients who are wanting to build muscle and sculpt their body without the recovery, downtime, or scarring that is often associated with a more invasive cosmetic treatment. It is especially beneficial for those who desire abdominal etching and gluteal contouring, addressing the stomach and buttocks areas.
EMSCULPT Treatment Technique
EMSCULPT is performed inside our Atlanta, GA plastic surgery center, and the treatment typically lasts about 30 minutes. Patients are able to relax while our team prepares the treatment area. The EMSCULPT HIFEM device uses the same principles as common muscle building exercises like squats and crunches to trigger muscle contractions up to 20,000 times in a single session. During treatment, Dr. Connors takes great care to monitor and alter the device as necessary so that you are as comfortable as possible while achieving optimal results. The EMSCULPT procedure, according to our patients, feels similar to an intense workout as the muscles contract. Patients will feel this during treatment, but there is generally minimal discomfort.
What to Expect with EMSCULPT®
In most cases, there is no downtime or recovery associated with EMSCULPT, and most patients are able to return to normal daily activities. Immediately following treatment, there may be some redness, as well as slight swelling and soreness, but this subsides within a few hours or a couple of days, depending on the areas treated. Optimal results for EMSCULPT are usually seen after a series of treatments. During your consultation, a customized treatment plan will be developed specifically for your body type and aesthetic goals, but most of our patients receive anywhere from 4 – 8 treatments that are typically spaced about 2 – 3 days apart.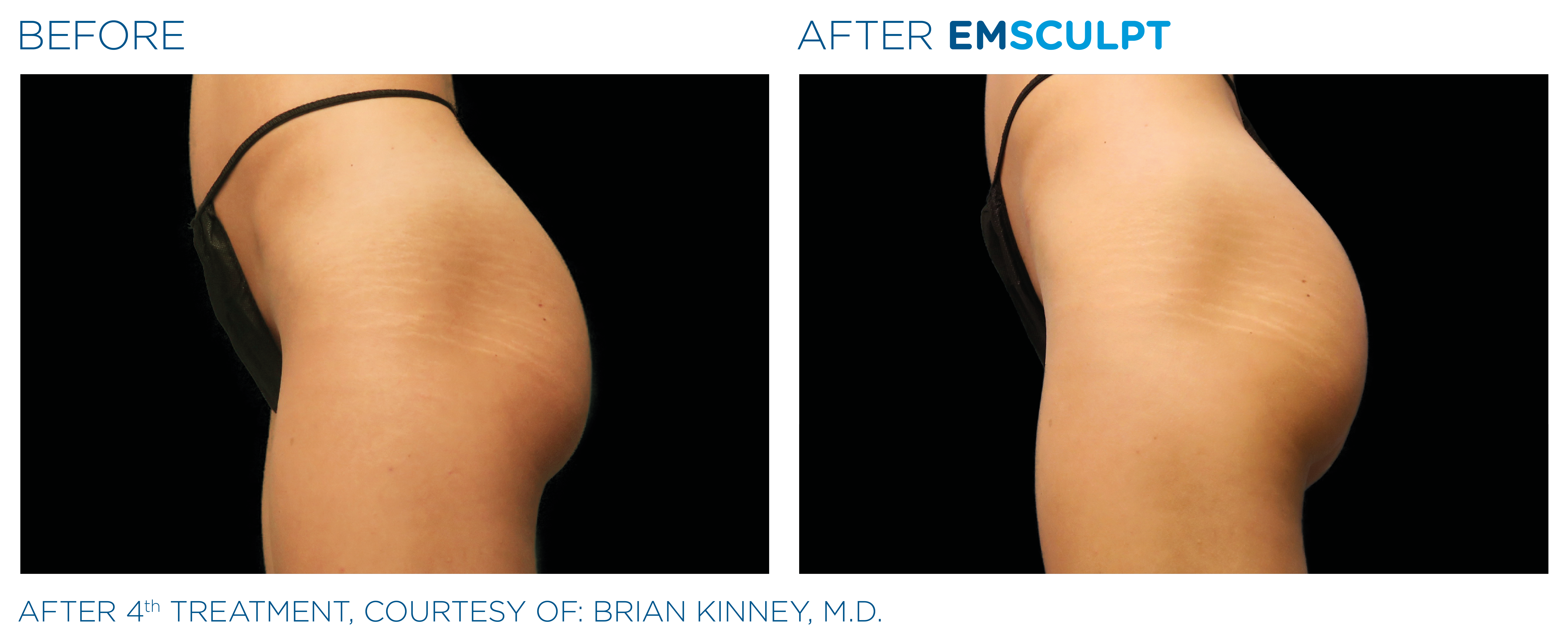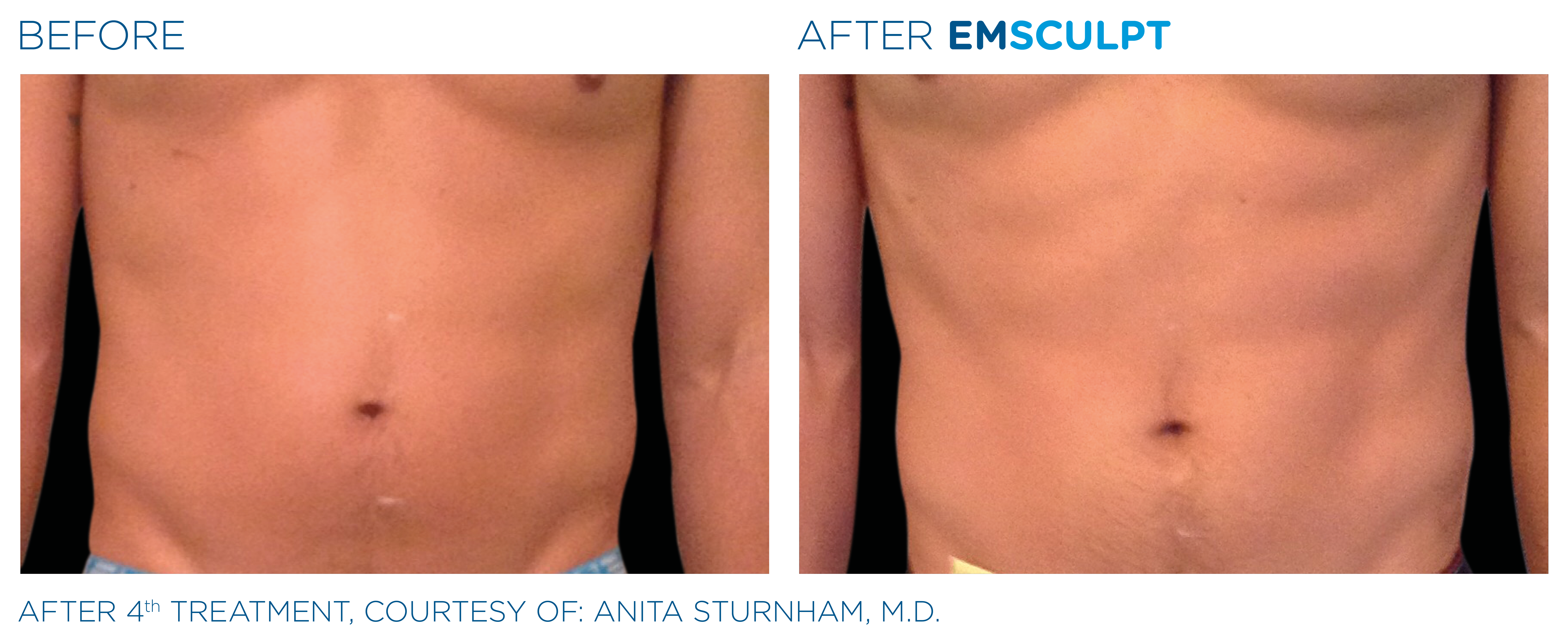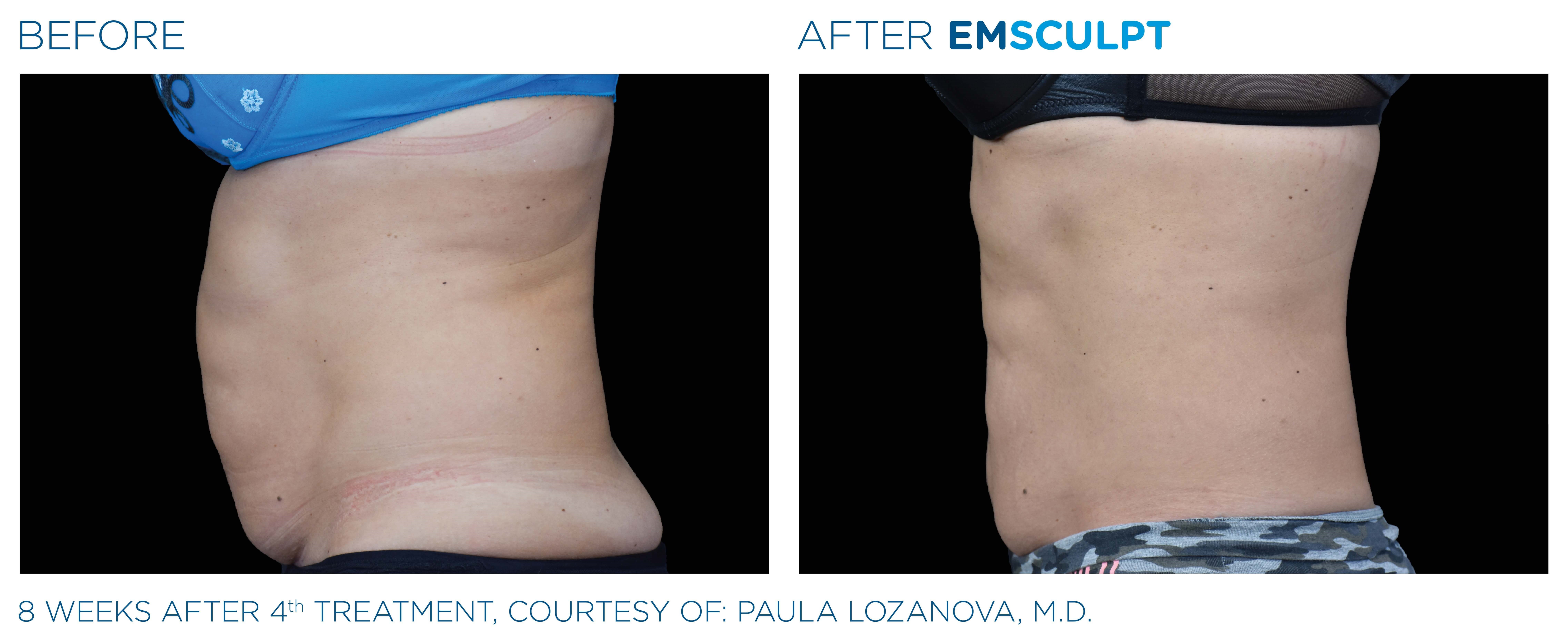 Plan Your Procedure
Average Cost

$750

-

$3,000
Contact Us
With EMSCULPT treatments, you can enjoy the slimming, more defined body contouring results you want without the downtime of cosmetic surgery. The latest technique that this technology offers will assist in sculpting and contouring your abdomen or buttocks. If you are ready to build and strengthen your muscles, EMSCULPT can deliver the results you want. We invite you to call our Atlanta, GA plastic surgery center, and schedule your consultation today to learn more and to see if you may be a candidate for this innovative procedure.