Regardless of how often you work out or how well you eat, a sculpted look can be difficult to not only achieve, but maintain. Many of our patients appreciate the extra "boost" that non-surgical body sculpting gives them – helping to improve their muscle tone and definition. Double Board-Certified Plastic Surgeon, Dr. John Connors, is proud to offer the revolutionary EMSCULPT®, a non-invasive treatment that simultaneously burns fat and builds muscle to sculpt and contour the body. Patients who are at a healthy weight that desire additional contour will benefit from EMSCULPT®. The treatment uses HIFEM (High-Intensity Focused Electromagnetic) Technology to promote supramaximal muscle contractions that build muscle at a cellular level. When exposed to the series of contractions, muscle tissue is forced to adapt and respond resulting in the enhancement of current muscle and the creation of new muscle. In some areas, EMSCULPT® has also been proven effective in fat reduction. It is designed for both men and women seeking an enhanced muscular appearance of the abdomen and/or buttocks.
To learn more about non-surgical body sculpting through EMSCULPT®, we invite you to call the office to schedule a consultation today!
Reviews
"Dr. Connors and his staff are some of the most wonderful people I have met since moving to Atlanta.  They truly care about you-how you feel, that you are happy with results, really they treat you like family.  If anyone is considering plastic surgery, Dr. Connors is a must, he will make you perfect!"
- K.E. /
Yelp /
Aug 28, 2015
"I had liposuction and body contouring by Dr. Connors, and my life is changed. He literally eliminated my biggest insecurity. He is an amazing surgeon with an amazing team from the office staff to the anesthesiologists. I was supported every step along the way, and everything I wanted was considered and discussed. I had clear expectations from Dr. Connors, and I was given all the tools and information to heal successfully after surgery. The office was also always available when I had questions. I never write reviews, but I am so thankful to this office. Seriously, I cannot say one bad thing about my experience. Thank you Dr. Connors! Thank you Dr. Drake! Thank you Carey! Thank you Tammy! Thank you Kristy! Thank you Jamie!"
- L.C. /
Google /
Oct 12, 2020
"This is my second procedure with Dr. Connors, the first time was an absolutely amazing experience and my results were fantastic! The second time was just as great! The ladies up front create a welcoming environment, while making you feel safe through this pandemic. The educated nurses in the back walk you through the process step by step and answer any questions you might have. Coming from a medical background,I have always been impressed with there standard of care. I have referred friends and family to him! He makes you feel comfortable discussing whatever it is that brought you there. From beginning to end they take care of you. Would highly recommend!"
- M.B. /
Google /
Sep 05, 2020
"Dr. Connors performed my rhinoplasty procedure in July of 2014. It has been completely life-changing. For as long as I can remember, my nose was something that I was very self-conscious about. Dr. Connors took the time to explain the entire process and procedure, all of the risks and benefits, and a realistic expectation of the results. He also used the Vectra 3D imaging system to actually show me a projected outcome of the procedure. The imaging showed the manipulated image of the nose on my face, so I had a good idea what I would look like after the surgery. This really helped to put me at ease because I knew he and I were on the same page regarding the results. I HIGHLY recommend Dr. Connors and his office for any surgical or non-surgical procedure. You won't get better results or a more caring surgeon and staff!"
- K.H. /
Google /
Aug 09, 2020
"AMAZING!!! From the staff to the Doctor himself, my entire experience was beyond my expectations! Everyone was so friendly and very knowledgeable about my procedure. I felt very well informed and prepared for my surgery. I love my results and I'm so glad I decided to choose Dr. John Connors for my breast augmentation!"
- L.M. /
Google /
Aug 07, 2020
Previous
Next
During your consultation with Dr. Connors, he will assess your body fat, skin laxity, and overall contour to see if you are a candidate for EMSCULPT. This noninvasive treatment is great for patients who are wanting to build muscle and sculpt their body without the recovery, downtime, or scarring that is often associated with a more invasive cosmetic treatment. It is especially beneficial for those who desire abdominal etching and gluteal contouring, addressing the stomach and buttocks areas.
EMSCULPT is performed inside our Atlanta, GA plastic surgery center, and the treatment typically lasts about 30 minutes. Patients are able to relax while our team prepares the treatment area. The EMSCULPT HIFEM device uses the same principles as common muscle building exercises like squats and crunches to trigger muscle contractions up to 20,000 times in a single session. During treatment, Dr. Connors takes great care to monitor and alter the device as necessary so that you are as comfortable as possible while achieving optimal results. The EMSCULPT procedure, according to our patients, feels similar to an intense workout as the muscles contract. Patients will feel this during treatment, but there is generally minimal discomfort.
In most cases, there is no downtime or recovery associated with EMSCULPT, and most patients are able to return to normal daily activities. Immediately following treatment, there may be some redness, as well as slight swelling and soreness, but this subsides within a few hours or a couple of days, depending on the areas treated. Optimal results for EMSCULPT are usually seen after a series of treatments. During your consultation, a customized treatment plan will be developed specifically for your body type and aesthetic goals, but most of our patients receive anywhere from 4 – 8 treatments that are typically spaced about 2 – 3 days apart.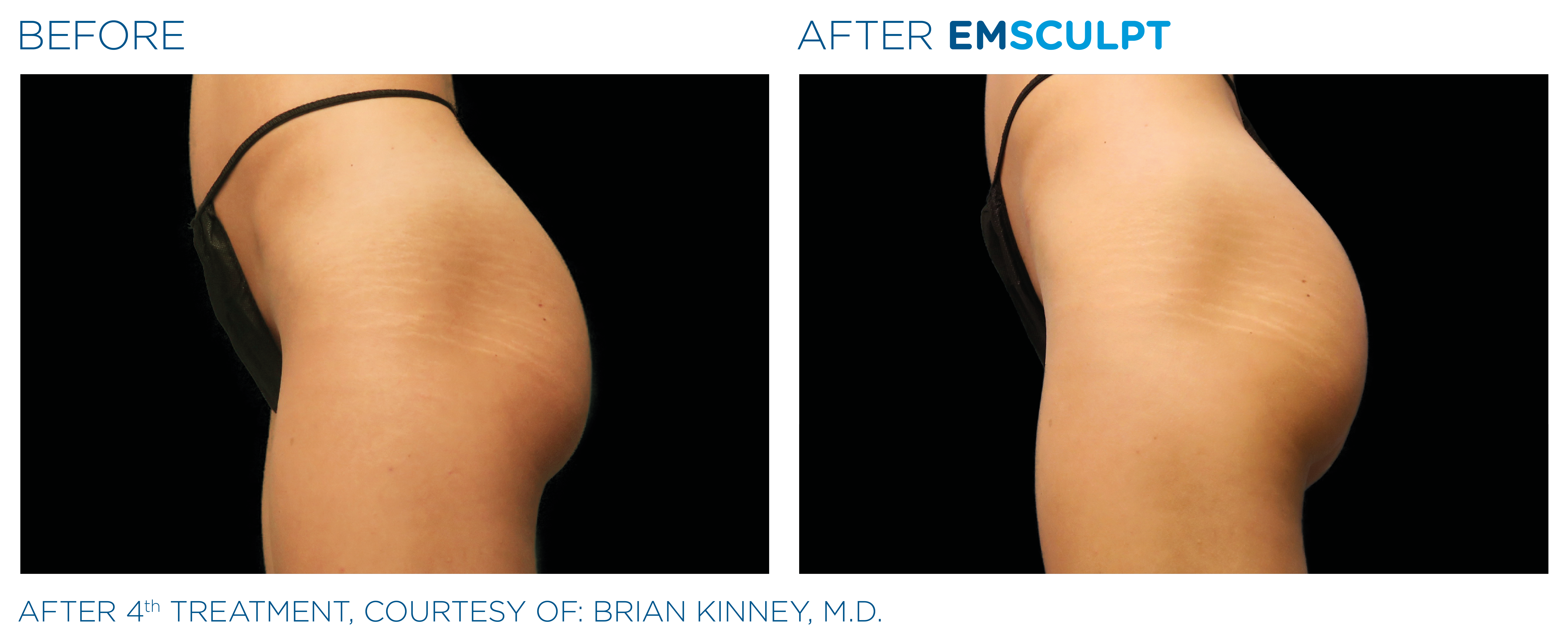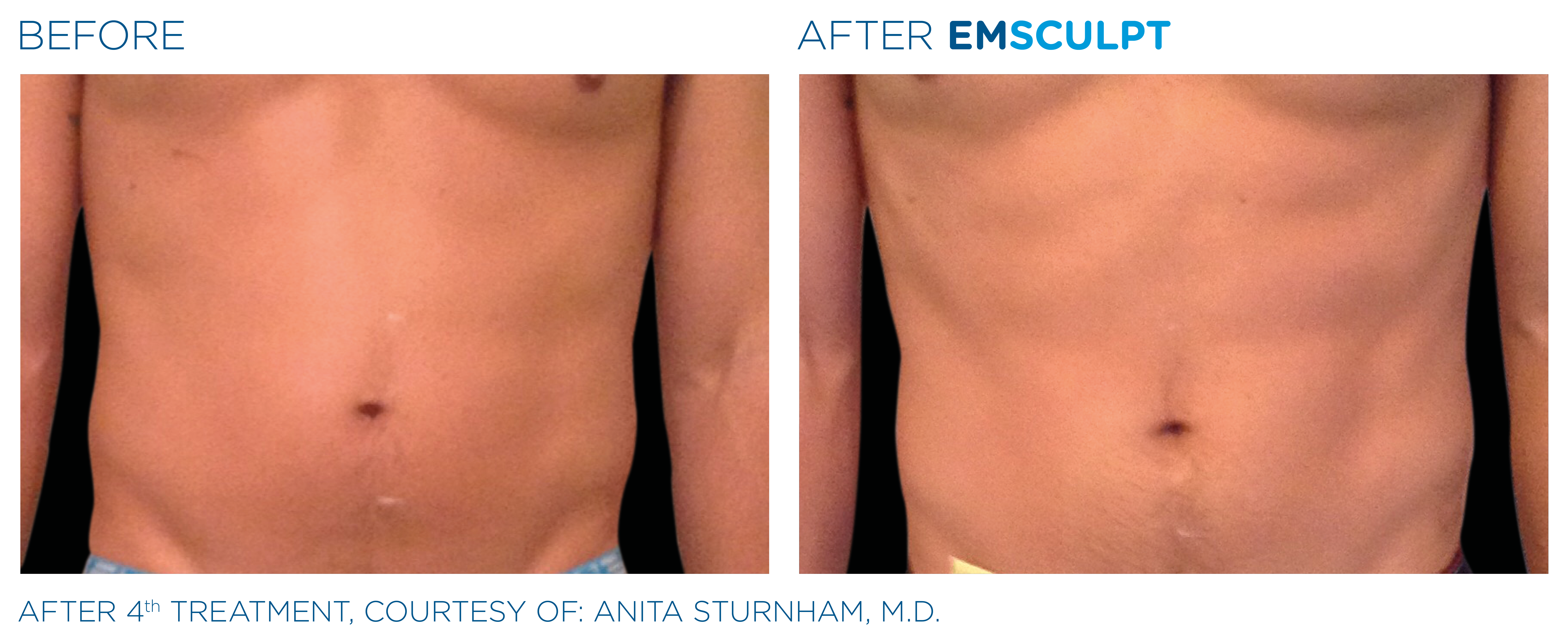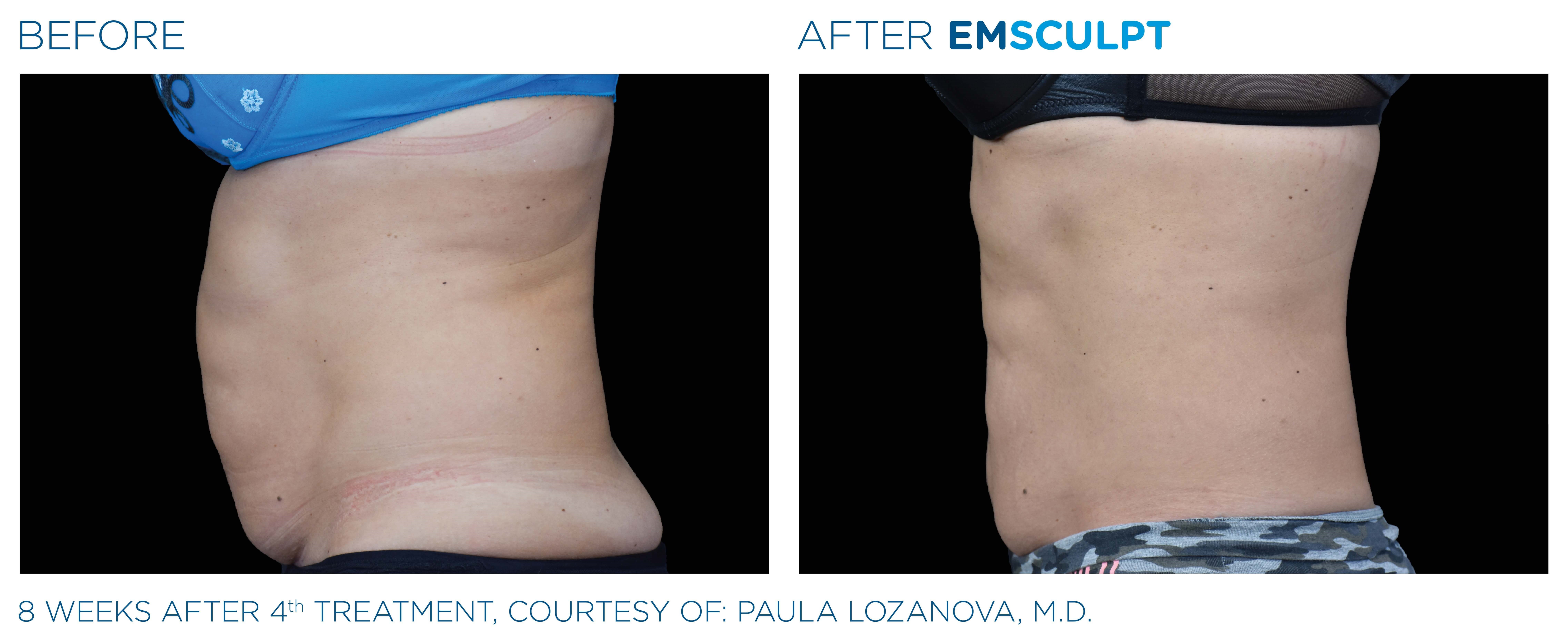 With EMSCULPT treatments, you can enjoy the slimming, more defined body contouring results you want without the downtime of cosmetic surgery. The latest technique that this technology offers will assist in sculpting and contouring your abdomen or buttocks. If you are ready to build and strengthen your muscles, EMSCULPT can deliver the results you want. We invite you to call our Atlanta, GA plastic surgery center, and schedule your consultation today to learn more and to see if you may be a candidate for this innovative procedure.